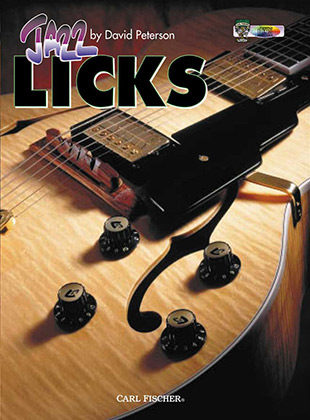 User reviews for
Dave Peterson's
JAZZ LICKS:

"First class jazz improv for the beginner and intermediate player, highly recommended."

"This is the best book for learning cool sounding jazzy licks in a variety of keys, styles, etc., plus an excellent cd with playalong tracks and examples."

"Provides compact, easy to learn licks that you can master in no time."
JAZZ LICKS (Book and CD)
by David (Dave) Peterson
BUY NOW at Amazon.com   $17.95
Publisher: Carl Fisher
ISBN-10: 0825845556
ISBN-13: 978-0825845550
Welcome to Jazz Licks. One of the most important goals for the jazz musician is to develop a vocabulary of ideas that can be used to create and shape an improvised solo. This vocabulary is usually based on the chords and chord progression formulas that make up songs from the jazz repertoire. The basis of developing a vocabulary, along with knowing scales, modes, arpeggios, etc., comes from learning and experimenting with licks. The vocabulary the best jazz guitarists use comes not only from guitarists but from other instrumentalists as well. In fact, saxophone, trumpet and piano players have been the main creators of modern jazz soloing.
Jazz Licks offers you many melodic examples for each of the chord types. The licks come from a wide variety of influences including guitarists such as: Pat Martino, Joe Pass, George Benson, Wes Montgomery, Pat Metheny and Howard Roberts. Additional influences come from other instrumentalists such as Charlie Parker, John Coltrane, Miles Davis, Chet Baker and Bill Evans.

TABLE OF CONTENTS:
Introduction and Tuning Notes
Major Licks
Minor Licks
Dominant Licks
Altered Dominant Licks
Blues Licks
II-V-I Licks
Turnaround Licks
Blues In F
Blues In Bb
C Minor Blues
Major-Charlie Parker Blues
Major-Charlie Parker II
Solar Improv
Note from the Author